DC Marriage License Proxy Services
(Monday – Friday 11 am – 3 pm)
---
Proxy Fees
DC Marriage License Application Proxy Service: $195
This service includes applying for your DC marriage license via proxy (application fee included)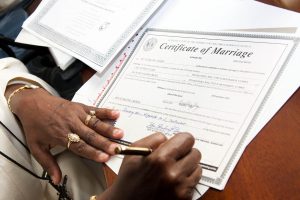 express mail add: $45
Regular Certified DC Marriage License Service: $160
1 regular certified copy included (used to change last name): $10 for each additional copy
express mail add $45
Triple Seal Certified DC Marriage License Service: $270
1 triple seal copy included (used for immigration, adoption etc.): $20 for each additional copy
express mail add $45
Temporary/Permanent Officiant Authorization: $275
We will process your officiant's authorization at the DC Superior Court so s/he can perform your ceremony in DC.   Call for more information.
How to Use Our DC Marriage License Proxy Service
For a DC Marriage License
Book Us with an electronic contract,
Send your completed Marriage License Application via email without SSN,
Send legible copies of your: current drivers licenses, or state issued picture identification, or military identification (both sides), or notarized  copy of the first 2 pages of your current passport, or green card.
Pay Invoice
Must be 18 years old or older to use this service.
For a Certified Copy of the Marriage Certificate
Book Us with a signed contract,
Send a copy of your DC marriage certificate
Provide us with a prepaid FedEx label for rush request
Sign contract
Pay Invoice
Shipping & Handling
$45 (USPS Priority Mailing)
Rush Request: $100 –  $150
Unless noted otherwise, we take 1-2 weeks to process your request.  If you need services sooner, a rush fee will apply.
DC Marriage License Processing Errors
As the applicant, Rev. Burns will proofread the document for accuracy prior to swearing that all the information is accurate and true.  She will send you a copy of the certificate to proofread.  Any errors found after your approval or different from the original, will be the responsibility of the couple to correct.  Otherwise and additional fee will apply if we have to do it.
Any errors found on the certified copy will be the responsibility of the applicant.  We cannot take responsibility for errors made by another applicant (including the couple) without additional compensation.
Who We Are
We are registered DC Wedding Officiants listed with the Washington DC Superior Court.  Our company has been handling confidential information for more than 35 years.   So we're ready to work for you by providing DC Marriage License by Proxy or one of our other services.
Why use our DC marriage license application proxy service?
Fast – Safe – Easy
Here's why you should use our DC marriage license proxy services.  If you don't have three hours (include travel and waiting) to visit the DC marriage bureau, then let us do it for you.  We will process your marriage license at the DC Marriage Bureau while you focus on things that matter most. This service can save you time, money, and frustration.  There is no need in risking a parking ticket to the DC Marriage Bureau only to wait 2 hours to process your DC marriage license application.
We want to be that other you, while the real you is relaxing and focusing on your other important things.
We can assure you that your confidential information will not be disclosed to anyone other than the clerk of the court.  Moreover, we have a long history of handling confidential information with the DC Marriage Bureau and other agencies.  Our Starlene Joyner Burns will be the only one acting has your DC marriage license agent.
Washington DC marriage license proxy service is for DC marriages only.
Read all of our wedding reviews on our
The DC Marriage Knot – Officiants to All (MD, DC, NoVA)
Storefront at