DC Gay Marriage FAQ
Questions for Rev. Starlene Joyner Burns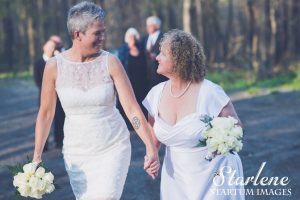 Do you officiate same sex marriages in DC, MD, VA?  Yes
Regardless of the changes in the law, I still get calls asking. if I officiate same sex marriages in DC, MD, and VA.  And my answer is always, YES.
Why do you officiate same sex marriages?
Same sex couples deserve to be treated with the same dignity and respect as opposite sex couples.
They should be able to marry the one they love without prejudice.
It makes me feel good to know that the work I have done, and faith I have had in seeing marriage equality in this country, has come to past.
I'm happy to go from officiating commitment ceremonies to officiating same sex marriages.
I embrace change, especially change that makes people happy, equal, and ends discrimination.
Can my minister decline presiding over my gay marriage in DC, MD, or VA? Yes
In the passing of the same sex marriage laws, ministers were given the right to follow the tenets of their church.
If their faith sanctions only a marriage between and man and a woman, the law protects them, their church, and property from any retributions for not offering services to sames sex couples.
Can vendors use their religion to deny services to same sex couples? No
Vendors that provide services to the public have an obligation not to discriminate against anyone regardless of race, sexual orientation, etc.
We had a same sex marriage in DC, and we found the officiant disconnected, is this normal?
You have to first ask yourself, how much time you spent getting to know this person.
There are times couples will meet with me knowing more about me than I know about them.
Getting to know the person performing your ceremony is important if connecting with them is important.
Quick marriages and signature services may not allow time for getting to know your officiant.
How do you make same sex couples feel comfortable?
Most people naturally feel comfortable around me.
I engage couples in dialogue that puts them at ease.
I treat same sex couples the same way I do opposite sex couples.
I'm a loquacious person, so I can talk for hours.
Most importantly, I'm comfortable with those who are comfortable with me.
What words would you use to describe same sex marriages in DC, MD, VA?
We prefer to use the word "marriage" for all marrying couples.
Since marriage equality is nation-wide, I want to get the word out.  So I use the following words to reach engaged couples.

same sex marriages
gay marriages
gay weddings
same sex weddings
lesbian marriages
LGBT marriages
LGBTQ marriages
LGBT weddings
If the words use to describe a gay marriage make my partner and I uncomfortable, are you flexible with using verbiage that we choose?
Yes, I am very flexible and opened to change.
Most of the terms I use for the wedding party has been embraced, but every now and then a couple might add their twist.
The ceremony workbook is gender neutral.
What have you done for our community?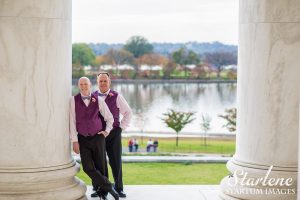 Since 2004, I have been a religious member and activist for marriage equality.
I have attended meetings and training with Equality Maryland and the Human Rights Campaign.
I have helped with some phone banks to get support for marriage equality.
I have volunteered my services to Equality Maryland during DC Pride.
I have held up light signs over the beltway with PFLAG to encourage voters to vote yes on Question 6.
I have provided financial support and sponsorship to various organizations fighting for marriage equality.
I have attended hearings and rallies as a supporter.
I have testified for marriage equality before the House of Representative many times.
I have wrote articles showing my support.
I have spoke at press conferences and with reporters outlining my support for marriage equality.
I became a digital artist for same sex couples.  Many couples eloping in DC only wanted a few pro images of their special day, so I studied photography to make that happen.
I continue to educate myself on understanding same sex relationships, so that I can provide the best service possible.
My family does not want to accept that my same sex marriage is equal to theirs. They want to call it a civil union with the rights and benefits of a marriage. Are they correct?
No, your family is wrong.
Your marriage is just as valid as their opposite sex marriages.
It's legal and it's real.  They have to get use to change.
Why do your call yourself a DC wedding officiant when you are a trained and ordained clergy?
I only use the title DC wedding officiant, because that is how people identify me on the Internet.
It's also a title that makes people comfortable.  Not every couple wants a religious leader presiding over their nuptial.
Do you officiate non-religious ceremonies?
Yes, I provide services to all people regardless of their beliefs.
For more general questions check out the DC Marriage FAQ page.