Prison Weddings
Congratulations!
Planning for a traditional wedding is challenging, but planning a prison wedding could prove to be even more difficult.  There are plenty couples who choose to get married while one partner is incarcerated.  This does not mean that the wedding day cannot be special. The correctional institution may only allow the ring exchange, vows, kiss, and a few photos.  So think creatively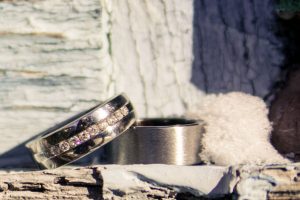 about your wedding vows, and let your imagination run wild (for your prison wedding).
It will be my job, as a minister, to help those who participate and attend the ceremony to transform present reality into an illusion. While creating a space that is sacred, blessed, and prepared for the ceremony of marriage; your marriage will start off in the light of love, God/Allah, and the Universe.
Within the limits of the correctional system, I will work with you to create a uniquely special wedding ceremony that reflects your feelings, beliefs, and hopes for a successful future.  This is only for a customized ceremony.  Not all facilities will allow this.  There are facilities that only allow 5 minutes for me to solemnize the marriage.
So ladies, don't go out and buy the most revealing dress you can find, because bare skin must be covered. You cannot bring a bouquet, music, cake, gifts (other than the ring), or camera. Costume jewelry will set off the alarm, as well as, clothes with metal beads and high heel shoes with nails. You can still be beautiful without the glitter and exposed skin. Be creative and be of good spirit.
Also ask the chaplain how much time you have after the ceremony to spend with your spouse. You may be granted no time at all or 1 hour.
The System
Familiarize yourself with the rules of the institution in which your marriage will be held. For more information visit the Maryland Correctional Services page. It will provide you with a list of prisons in Maryland, visitors dress code, visiting information, needed identification, and directions to their facilities.
In addition, be prepared, if you are getting married at a pre-release or maximum security facility. You and your guests may have to submit to a pre-screening process (criminal background investigation). This means that everyone on your guest list will have to provide their social security number and date of birth in order to attend the ceremony.
Each correctional facility in Maryland may differ from the others, so the rules may change. Some facilities may not allow wedding ceremonies at all or may not allow a particular inmate to marry. So check with the Chaplain, and find out the rules for marriage, the day, and time the wedding can be held. Keep in mind that most ceremonies are held during the week and weekend weddings may not be allowed.
Finally, find out what the release date is for your soon to be husband/wife. This information is very important and can determine whether or not you should wait. You can check with the courthouse in the jurisdiction in which your fiancé is staying for accurate information. Because there are times when an inmate will not provide his/her future spouse with the correct release date. So be strong and check it out for yourself.
Facing Challenges
It will be a challenge for your spouse to mentally move from one system into another. So help him/her with making the right choices while in the prison system to get the necessary spiritual help he/she needs.
This spiritual strength will help your relationship and his/her recovery from a system that can retard a person's self-worth. Such help should start once you submit your petition to the warden for your marriage. Show your support by making the 8 visits per month to see your spouse. Talking is a way of releasing tension and emotional pain. Use the time to discover what you may need to address in counseling once you and your spouse are cohabiting.
Leaving a prison system feeling good about oneself and one's prospects will only be a catalyst for success in marriage and in life. A person should find a way to heal of the pain caused by being incarcerated, and continue with that method of healing until he/she is pain free.
To paraphrase Chaplain B, "An inmate should not bring into the home anything associated with prison life. This is a poison that will only pollute the relationship.
He needs to work it out while in the system by getting the necessary spiritual help.
If the inmate's release date is a few weeks after the wedding, this will not work. When the release date is months after the wedding there is plenty of time for the inmate to prepare his life for change."
Confidential Information
Since all prisons are not created equally, my services may not be available at institutions where strict guidelines discourages a minister participation. I am willing to provide my ministerial credentials, letter of intent, and picture driver license in order to perform a wedding. However, I am not interested in providing my social security number and date of birth for this purpose.
Chaplain B at one of the Jessup prisons gave me some worthy advice "never give anyone your social security number over the phone or in writing." Since I respect the advice of a colleague and sage of the system, I do not provide this information to the prison chaplain or his/her associates. It is my personal opinion, that the criminal background check for clergy is only a rouge to prevent inmates from marrying while in jail.
However I am always in compliance with the Federal Correctional Institute in Cumberland, Maryland.  Their pre-screening process is more secure and professionally executed.
DC City Jail Weddings
This facilities don't really allow wedding ceremonies because the inmate would never meet the qualifying points to say I Do.  What are the qualifications to get married at the DC City Jail.  I can't recall, but I was told that the inmate would never qualify.
So don't waste your time securing a marriage certificate from the DC Superior Court marriage bureau unless you're getting married when your partner is released from the DC Department of Corrections.
Getting a definitive answer from the religious leader there is nearly impossible unless you are another clergy.  If this information is incorrect, please drop me a line at the email below.
Cost
A prison wedding cost the same as a wedding on the outside.  So be prepared to pay $120 – $435 (depending on the location). The smallest fee applies to multiple weddings, at the same location, the same day, and scheduled consecutively.
To book your prison wedding, contact us today at 800-893-1259 or email us.