Wedding Officiant – MD Same Sex Marriages – Gay Marriage
2014 Marriage Equality Celebration in Md
In January 2014 Marylanders celebrated it's first year of marriage equality.  It was the first state to win same sex marriage by ballot measure.
Getting married in Maryland is easy, because there is only a 48 hour waiting period.  And the marriage license is immediately placed in the hands of the couple the day of application.
Having a MD same sex marriage is no different than planning an elopement, small wedding, or something absolutely fabulous.
Ceremony Types
We at The DC Marriage Knot are ready to join you in a spiritual marriage, civil wedding, or religious ceremony privately or publicly at your location of choice.
MD Wedding Locations
Maryland offers some great locations for a wedding to take place.  The National Harbor is one of them.  Its close to DC and Northern VA.  Then there's the beautiful Baltimore Harbor, Annapolis MD beaches, and much, much more.
We travel to you and provide services to the following areas.
St. Mary's County, Charles County, Montgomery County, Prince Georges County; Baltimore City, Baltimore County, Howard County, Anne Arundel County, Frederick County, Carroll County, Kent County, and Queen Anne's County, and Cumberland MD.
MD Gay Marriage Advocate
Remember, our Reverend Starlene Joyner Burns was on the frontline of the MD same sex marriage equality fight.  She put her ministry, business, and reputation on the line for those deserving to be treated with fairness, dignity and respect.
The wedding officiants at The DC Marriage Knot are not new to providing marriage services to same gender loving couples.  We have been active in the movement for marriage equality since 2004.
Learn more about our lead minister Rev. Starlene Joyner Burns and her fight for marriage equality; by clicking one of the following links:  GayWeddings.com, BmoreInclusives, Examinar.com, Washington Post, MD Faith Equality Channel, Washington Blade, and Equality Illinois listed Rev. Starlene Joyner Burns as one of the "National Religious Leader Supporting Marriage Equality,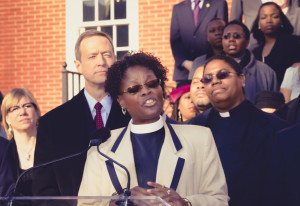 If Rev. Burns' background and advocacy fits your description for a MD wedding officiant, call today.  She believes in those supporting marriage equality to be true liberal, democrats, independents, Christians, Buddhist, and all in between.
Understanding Same Sex Marriage Labels
Many people call MD same sex marriages, gay wedding.  Therefore, our MD Gay Marriages sister site is being replaced with The DC Marriage  Knot.  We believe in the intergration of both same sex marriages and traditional marriages.  Separation is never the answer to equality.  Integration is the only way we can truly be united as one.
It is our hope that one day MD same sex marriages, gay marriages, civil marriages, gay weddings, same sex weddings, lesbian weddings, lesbian marriages, will be described with one word "marriage".   So we have created a Gay Marriage FAQ page to address any concerns you may have.
Call today, 800-893-1259, or email us at info@thedcmarriageknot.com, because we want to help you say I Do.