DC Marriage License Application Process
Getting married in Washington DC can be fast and easy.  I will outline what you need to know to get your DC marriage license which is the start of getting married.
The DC Superior Court, Moultrie Courthouse Marriage Bureau processes marriage licenses and authorizes officiants to perform ceremonies in the District of Columbia. We are authorized, registered, and on their officiant's list.  If you are using our services, include the name of your officiant on your marriage license application.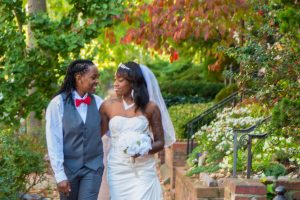 One of you will have to appear at the DC marriage bureau in person to complete the Marriage License Application.
You must bring your identification.  This is to show proof of age.  Both parties in the marriage must bring one of the following: driver's license, government-issued non-driver's ID, or passport.
Any person that 16 years of age wishing to marry in Washington DC, mush have the consent of a parent or guardian. Proof of age for the applicants must be provided in the form of driver's licenses, birth certificates, passports, or similar official documents.
Cost:  the total cost to process a DC marriage license application is:  $45.00 ($35 marriage license application fee [waived if you have a DC Domestic Partnership Certificate which you present at the time of application] and $10 certificate fee).
Then there's a certificate of marriage fee is $10.00.  Total cost for a DC marriage license is $45.
Marriage License Effective Date:  The DC marriage certificate can be used anytime from the day you receive it from the DC Marriage Bureau.
Waiting Period:  The DC Marriage Bureau no longer have a waiting period.  You can get your DC marriage license the day of application, and get married the same day as well.
Witnesses:  No witnesses are needed for a Washington DC marriage.
Age Restriction:  Washington DC restrict anyone to marry that is under 18 years of age without parental consent.
Cousin Marriages:  In Washington DC cousin are permitted to marry.
Residency Requirements:  You do not need to be a Washington DC resident to marry here.
license Use:  The DC marriage license cannot be used outside the District of Columbia.
Please keep in mind, that we're here to help you have a pleasant experience.  And if you want first class service, we will apply for your DC marriage license via proxy at an affordable fee.
The Marriage License Application Details
Personal Information to include on your DC marriage license application:
social security numbers, addresses, dates of birth
previous marriage information (city, state, country of each marriage and the ending status of each, such as, divorce or death)
home and work telephone numbers
are you related by blood to the person you're marrying.  In Washington DC cousin marriages are permitted.
name of your court authorized officiant or celebrant.
Marriage licenses are not issued by mail. Once issued, a marriage license does not expire.
Booking your ceremony at the DC Marriage Bureau
Once you book your ceremony at the DC Marriage Bureau, they will provide you with a receipt, time and date for your ceremony.  If you CHANGE YOUR MIND, a want to marry elsewhere, here's what you need to do.
find an authorized DC marriage celebrant
secure his/her services
return to the DC marriage bureau with your original receipt
sign-in and wait for your name to be called
give the clerk your receipt and inform him/her that you are picking up your certificate
provide the name of your court authorized marriage celebrant
collect your DC marriage certificate package
bring the certificate to your DC marriage celebrant
The DC Marriage Bureau Application Center is open from 8:30 am – 5:00 pm, and they stop processing applications at 4:30 pm.